WARNING - First off, flowers are a relatively difficult move. Have some experience before trying this. Many poists can't fanthom this move and it takes awhile to learn. It's even harder to learn with glowsticks than heavier poi. But trust me, it's worth it.
First off, what is a flower?
Example vid here
Forward and reverse 4 petal flowers, including a flower turn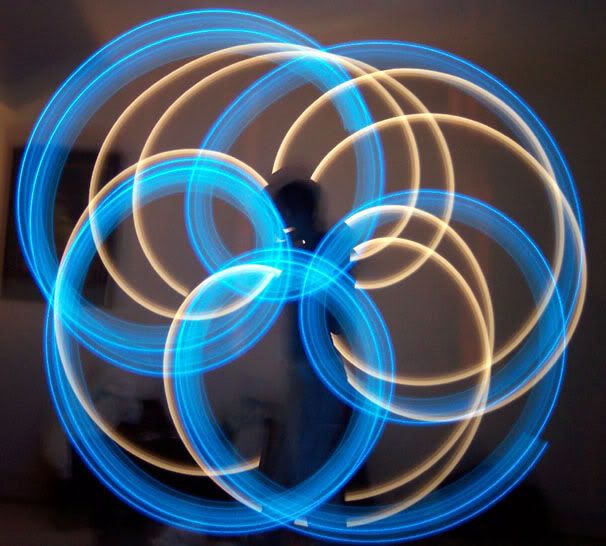 This is what a flower looks like.
Flowers are nothing more but a long arm poi extension changing the point of rotation at certain time intervals during the course of spinning the glowstick. What this means in english- moving your arms in controlled circles while the glowstick is rotating around as well.
Now how to do it?
regular 4 petal flower- try this without glowsticks first. Imagine that you are swimming freestyle. In other words, your arms are rotating forward at full reach. Now grab your glowsticks. Now if your arms were a clock, what you'd want to happen is that at the 12, 3, 6, and 9 o'clock positions, youd want the glowsticks to make a rotation and be pointed in at you. So keep moving your arms, and at each of those points the glowsticks should make one rotation. See video and picture.
Reverse 4 petal flower- Instead of doing freestyle, swim backstroke. The glowsticks should be rotating like your doing reverse weave.
Notice while doing flowers that your arms never actually cross your body like a weave. Now you CAN cross the glowsticks to the other side and turn around, thus accomplishing a flower turn. Much like weave turns, you should know forward and reverse flowers before attempting turns.
What to do afterwards-
Try different numbered petal flowers. Try isolating flowers. Do antispin flowers. etc etc etc.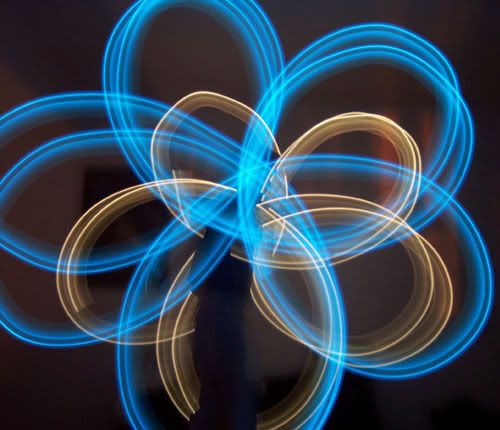 To do antispin flowers- move your arms forward as if you were swimming freestyle. However, the glowsticks should be rotating backwards as if you were doing reverse.
For reverse antispin flowers- Your arms are rotating backwards like reverse or backstroke, but the glowsticks are rotating foward.
After you learn those, you can manage antispin flower turns.
Congratulations!
Edited by melvenorc12, 27 February 2009 - 07:03 PM.