Written by Cody
Sunday, 09 October 2011 16:19
Glowsticking.com is proud to announce that the first annual Northern California Flowspace meetup was an overwhelming success. Special thanks go out to the wonderful community that came out to share in a weekend of glowsticking and fun (+sushi) from all over the west coast. Super special thanks to our gracious hosts Sean and Prisna of Flowtoys, without whom none of this amazing weekend could have been possible, and also Dave Oh (owner and founder of glowsticking.com) for creating this website in the first place. While we're not sure of the total attendance at the meetup, it could have easily been at least 50 members that showed up throughout the day to hang out and get know each other better.
Read more...
Written by zin
Wednesday, 29 June 2011 23:08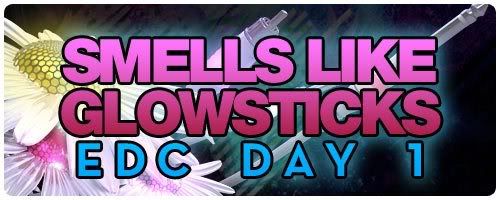 You know that nervous anticipation that built up before your very first festival? That all too familiar feeling of uncertainty about whether or not it will live up to the hype or falter according to the media? Going into this year's 15th annual edition of Insomniac's Electric Daisy Carnival, no one knew exactly what to expect. Even the most experienced festival attendee was feeling like the new kid again! I guess that's what happens when you book a new venue in a new city in a new state! Would the festival falter in a city that rarely caters to a music festival demographic? After all, many of us know how Vegoose didn't last as long as it should've when it came to town a few years ago. All these questions had many nervous about Insomniac's risk of moving to a new city.

However, I for one am glad they took that risk. Click on read more for the rest of the article!
Read more...
Written by zin
Wednesday, 15 June 2011 21:34
Yes, that's right it's the season of the Electric Daisy again! EDC Orlando and Colorado have already passed, but we've still got two more to go, and they seem to be fast upon us! EDC Dallas and EDC Vegas will surely be fun packed weekends with your fellow GSCers! Click "Read More" for more information on each respective event.
Read more...
<< Start < Prev 1 2

3

4 5 6 7 8 9 10 Next > End >>